Think You Can't Homeschool Art? Think Again!
This post contains affiliate links to a product I tried and have now incorporated into our Homeschooling schedule. See Disclosure Policy for full details.
Ok, I'll fess up here and say Art has never been my strong suit.
Sure, we do crafts from time to time, I get books from the library filled with famous artists' paintings for us to look at, or use some "how to" books where I try my best to help my kids grasp the techniques laid out before them; often leaving us all a tad frustrated.
Feeling frustrated and discouraged can make it easier for us to push Art aside.
Until Now!
I took the plunge and tried "A Seasonal Start in Fall Chalk Pastels – Art for All Ages" from Tricia Hodges and Lucia Hames (Nana) at Southern Hodgepodge  (in exchange for my honest review).
What made me decide to jump in and try it?
This demo on YouTube where they use chalk pastels to draw an apple in 1 minute (or less)!
I realized one thing…
I Can Do This! 
I Can Teach My Kids Real Art Techniques!
After watching this demonstration I literally went out the very next day to purchase our own set of chalk pastels and paper!
The first thing my kids wanted me to do (knowing how Art challenged I am) is to take the 1 minute apple challenge!
Guess what?
I did it, score 1 for Mom!
That was all they needed to dig into these tutorials and give it a shot!
"A Seasonal Start in Fall Chalk Pastels – Art for All Ages" is:
Well laid out
Includes tips to preserve your masterpiece
Includes ideas for easy clean-up
Glossary of terms
Make sense
Fun to do
Filling the Art Gap
After a week of not being completely prepared to start our Homeschool year, this has propelled us into our fall term with fresh enthusiasm! 
My kids are excited to do Art again
They have a new found confidence in their abilities
They are going beyond the tutorials and creating on their own
They are smiling as they work!
And Best of all I heard…
"Hey Mom! Look what I can do!"
Use chalk pastels to create real art. It is a forgiving medium which allows you to soften lines and experiment easily with blending colours.
No matter how old you are, whether you homeschool or not, these Chalk Pastel e-book tutorials are worth it!
* I'd like to Thank Tricia Hodges for the opportunity to review her latest chalk pastel e-book
"A Seasonal Start in Fall Chalk Pastels – Art for All Ages"
Get your Chalk Pastel Books and Unleash your family's inner artist!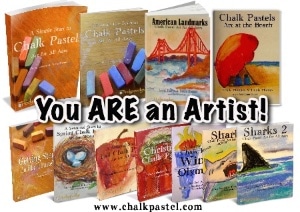 Or Grab this bundle to save money!